I'm happy to say that last month I managed to achieve one of my aims for 2012 by earning £500 in one month, and to be exact I can report that I earned £501.29 in February from my online niche sites which is just under US$800. When I wrote my aims at the beginning of January I was just about recovering from a Google slap and had earned just over £200 in December and so £500 seemed a long way away but just a couple of months into the year and I've done it.

How did I do this?
This month I earned £490.67 from AdSense and only £10.62 from Amazon and that was a result of me deciding where best to spend my time. Whilst the majority of my earnings are from AdSense then it makes business sense to keep my focus on that and try and build on it rather than using my time trying to force a new income stream whilst I haven't reached my potential with AdSense.
I've found it harder to rank for Amazon affiliate sites and even have one site that Google just doesn't want to index so in a way my hand was forced and I decided to work on my current sites and see what I could do to improve a couple of them. I did also create a new AdSense site and also purchased around 10 new domains to work on in the next few months.
A nice £6,000 pay rise
£500 is a great amount to be earning 'on the side' and if this were a regular income then it would effectively mean a £6,000 payrise for me! You wouldn't turn that down would you? Of course there is tax to come from that but I'm lucky in that my only expenses are my hosting (£16 a month) and buying domains (£7 for 2 years). I write the majority of my own content and spend perhaps £10 a month on content writing and create any backlinks myself or using Fiverr ($10 a month).
I'm only looking up now and fingers crossed I can make further improvements to my income reports.
Can a theme improve ranking?
As I mentioned earlier I looked at ways to improve some of my sites and one of these is a 6 month old site which was earning around £2 a month and using the CTR Theme. I know this site has a bit more potential so I thought I would experiment and give it a new theme. This meant a refresh and also sorting out the menu structure slightly, but didn't involve any new content. This was simply about site design and structure which is something not always taken into consideration with SEO. Here's what happened over the month: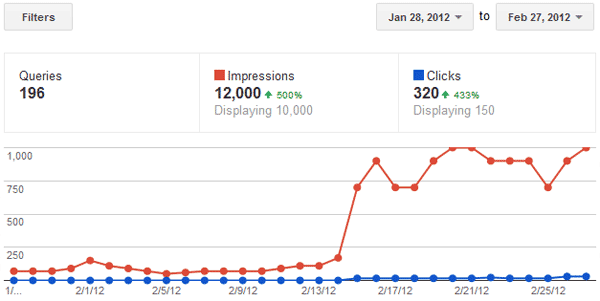 This led to the site earning £11.23 last month. The above graph is from Google Webmaster Tools and shows search queries on Google for keywords to my site. As you can see from the graph, visits aren't amazing (about 16 a day) but my site is ranking higher and with a bit more work and improving the content I am hoping to see further improvements.
Of course this could be down to a Google algorithm change but I doubt it as I installed the new theme on 13th February and the change was almost instant. Take from this what you will but I will certainly be focusing a little more on site design and menu structure from now on rather than just content and links and perhaps this could rejuvenate some of your older sites?
The Future
I am constantly being told that AdSense is unstable and shouldn't be taken for granted and whilst I agree with this I think it can apply to any income, even your 9-5 salaried job, and so whilst I'm looking to branch out I mustn't neglect what is providing the majority of my offline income. The future then is more AdSense sites but perhaps it's time to start working on something 'bigger', perhaps a community site, which is something that Google is favouring. What are your tips on this? What do I need to do?